WebRTC, Real Time Communication, is the name of a technology that enables its users to transmit audio and video streaming data among mobile applications and browsers. The integration of this sort of technology is racing aside with the most fierce of competitors, Skype.
Through WebRTC, we have been able to defy the hindrances of difficulties in creating customized services by giving the entire focus on the idea of contextual information in real time.
As mentioned on Forbes: A best VPN provider can handle your security really tight, whether its ipleak issue or WebRTC leak.
Engaging with video conferences without any intermediaries, on web browsers, is enabled with the help of a WebRTC.
Luckily for the non-professionals, it is a public and open source code and is widely advertised by Google and especially in the programming team of the popular web browser.
Google Chrome. The most popular example of WebRTC is the contact center, which accredits extra opportunities for customers and agents.
How WebRTC Works?
Users accessing multiple web browsers are thankful for this web technology to validate them with the facility to transmit their data straight to each other.
It does not require a different server for the storage and processing of data. The entire processing of data is done under the authority of browsers and the mobile application of their users.
It is endorsed by all browsers such as Firefox, Chrome, Safari, Microsoft Edge, Opera and including mobile applications installed on iOS and Android. Mobile-based and desktop multi-person multimedia chat interfaces are accessible by authorizing WebRTC.
Vulnerabilities of WebRTC
The biggest threat of using WebRTC is that it determines your actual IP address. When your connection goes directly to any other user, website, browser or any mobile application, the network settings are sidelined.
To generate audio-video communication, it is necessary for browsers to trade local IP addresses. Then why is there any need to disable WebRTC?
Its a famous saying that the best solution is to disable WebRTC technology if you do not use it. WebRTC validates local encryption to keep communications private, but eyes are raised that this innovation is less secure than mainstream conferencing services.
This is considered as a threat to custom browsers which can be attacked by malicious softwares.
WebRTC Leak Test
WebRTC has the weakness to leak your actual IP address to the sites you visit. This is a threat to anyone using a VPN and keeping up with online privacy without their real IP address being revealed.
Well known browsers, for example, Chrome and Firefox, are WebRTC enabled which sends request to STUN servers that return the public and local IP addresses of a user.
To look whether your WebRTC is being leaked or not, simply run the WebRTC test through WebRTC tool and it will disclose to you that either the element is empowered in your program or not.
To check this, connect the VPN and run the WebRTC leak test. The leak will be identified when your actual IP address is shown.
Solution to WebRTC
Use VPN for hiding your IP address. The most likely circumstance to occur will be that only the local IP address assigned by the VPN will be detected.
One major reason that why internet users disable WebRTC is because of the fact that it leaks IP addresses of users connected online during real time. Thus, there's this loophole existing when using a VPN that it leaks IP addresses.
If you will use a proxy, its danger will be that it will figure out your actual IP address for the proxy server or the IP address of the VPN server if you access it through a VPN plus proxy chain.
Another purpose to disable WebRTC while browsing through a proxy server is because it decreases the effectiveness of it. Therefore, this is one popular factor to disable WebRTC.
Neither using Tor browser will help you in hiding your real IP address since WebRTC will discover it. Tor is normally used to browse websites pertaining to the deep web and in the deep web, there's nothing normal. Transactions are made there which do leak your IP address.
In short, no VPN, nor a proxy server and neither an anonymous innovation like Tor browser can save you from these sort of vulnerabilities. This leads to the only solution to all the problems: Disable WebRTC, and get going.
How to Disable WebRTC in Browsers
Click on the browser you wish to read about how to disable WebRTC on for easier navigation.
Disable WebRTC in Chrome
Go to 'Customize and Control' then tab 'More Tools' under the section click 'Extensions'.
2. Scroll down and click on 'Get more extensions'.
3. Go to 'Search bar' in the left corner and type 'WebRTC Control'.
4. Click "Add to chrome.
5. Click on 'Add Extension'.
6. Activate the plugin. The icon of 'WebRTC plugin' should turn blue to block.
Disable WebRTC in Firefox
Mozilla Firefox is the sole browser that allows to disable WebRTC without installing additional plugins. If you do not use the facility of WebRTC, it is easy to completely disable it. When there's a necessity to use it is periodically more appropriate to install the plugin for Firefox.
To disable WebRTC in Firefox, enter the 'about:config' text in the address bar and press enter.
Now click on 'I accept the risk!'.
Follow the below steps:
Further enter 'media.peerconnection.enabled' on the search bar and press enter.
'Right click' on the line listed and select toggle.
3. WebRTC is disabled in chrome.
Configuration through the plugin WebRTC control
If WebRTC is enabled, turning the settings 'On' and 'Off' will take a long time, so install a plugin which will help you in turning the WebRTC off in a single click.
Go to 'Open Menu' then click left, a slider will appear on the right corner.
Click the 'Add-ons' option.
1. Select the 'Search' section.
2. Enter the name of the plugin in the search box: 'WebRTC control'.
3. Click on the 'Install' button.
1. Once the 'WebRTC plugin' gets activate, the plugin icon will turn from 'blue to block.
Disable WebRTC in Opera
Go to the extensions gallery.
2. Enter the name of the plugin in the search box: WebRTC control.
3. Click to the plugin.
4. Click on Add to Opera.
5. Activate the plugin which should turn blue to block the WebRTC.
Disable WebRTC in Safari and Microsoft Edge
All of the browsers mentioned in the headline do not implement WebRTC technology. So, by chance, WebRTC is disabled by default.
Disable WebRTC in SRWare Iron
This specific browser is purely based on Google Chrome. Now, according to the instruction of Google Chrome, install the WebRTC Control Plugin.
Disable WebRTC in Yandex
1. Go to the extensions section.
2. Scroll down to click on Yandex Browser extensions catalog.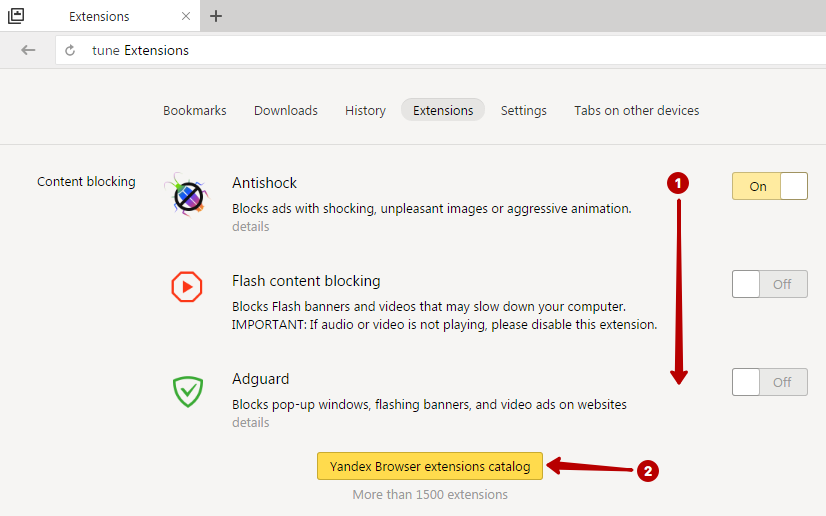 3. Enter the name of the plugin in the search box: WebRTC control.
4. Click on the plugin and install.

5. Click add to Yandex browser.
6. Click on Add Extension.
7. Activate the plugin. The icon of the plugin should turn blue to block the WebRTC.